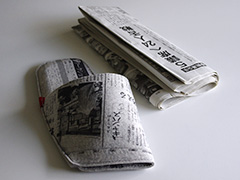 Every process of this product is hand manufactured by yuruliku.
In order to transform the rolled image of a newspaper into a slipper, we decided to use only one sheet of sewing pattern.
We made countless product samples to adjust the balance between comfort and its shape.
Also, we studied the practicability, applying adequate padding and nonslip finish to the sole.